Artist in Residence Recipients for 2018
Posted On April 20, 2018
In collaboration with BRAVO Greater Des Moines, Area515 is pleased to announce our 2018 Artist in Residence recipients.
For the next six months, these makers will have full access to the space, tools, a complimentary membership, and a $100 stipend (courtesy of BRAVO) to make, think, and create as far as their imaginations will take them. This will lead to an art show on October 18th at Decades Event Center in West Des Moines. With over a dozen applicants to choose from, the decision was not an easy one, but we're excited to see where the next few months will take these makers.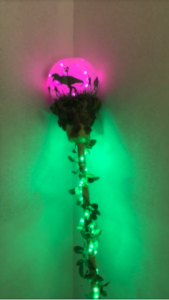 Mia Moreno is one of the six recipients of our 2018 Artist in Residence program. Among of myriad of pieces submitted as work samples, she is most proud of the totem (pictured to the right). The totem was constructed out of a fish bowl, PVC piping, and a lot of creative problem solving skills. The result was fantastic and we're excited to see how she utilizes the makerspace to further her interest in creating functional artwork.
Nathan Cline is a University of Iowa graduate (go Hawkeyes!), and is hoping his residency will give him ways to improve on his skillset as a metalsmith and sculptor. With the help of other members, Nathan wants to create an interactive lighted chandelier that moves using actuated arms. The large amount of open source technology and coding will surely be a challenge, but Nathan certainly seems more than ready to step up to the plate. To see more of Nathan's work, visit his facebook pages, Cline Custom Metals and Meta Art and Design.
Jeremy Franklin and Gabe Scheid are our first ever dynamic duo. With a background in music, (you can check out their tunes here) Jeremy and Gabe have come to the makerspace with one thing in mind: a self contained art installation. Their plan is to build a dome of plants (similar to the one on the right) that would react to external stimulation, such as touch, water, and would, in return, send a wave of light and sound through the dome.
While Shelly Burkowitz spends her days teaching, this Iowa City-native hopes to use her six month membership to the space to build an LED array. This array would light up with sound volume levels in a sculpture to create an interactive environment where viewers must differentiate between artificial intelligence and human emotion. The sculptures themselves will be responsive to surroundings and display a connected reaction coded to mimic human emotion. While Shelly's website already boasts a wide array of work, we're particularly excited to see what she accomplishes with her membership.
Andy Davis, our final recipient, is fresh off a one-month residency in Parly, France. During this time he took on the task of learning copper-plate etching. He wishes to continue his studies with the printmaking process and hopes to form a partnership with Red Door Press, a Des Moines based letterpress print shop to create a publicly accessible printmaking studio. Until that times comes, we're happy to have Andy as a member, and are excited to see where this collaboration leads him. His work in Parly, as well as other pieces can be found on his website.
A bit about BRAVO, our sponsor:
Investing in the sustainability and growth of arts, culture and heritage nonprofit organizations in Central Iowa is at the heart of Bravo's purpose. Through competitive grantmaking programs, and with contributions from 17 local government partners, Bravo provides support to a wide range of arts, culture and heritage organizations. These nonprofit cultural partners support a sector that is a key driver of economic activity and quality of life, making Central Iowa a premier place to live, work, play and visit.