Artist in Residence – Tibi Chelcea
Posted On September 30, 2017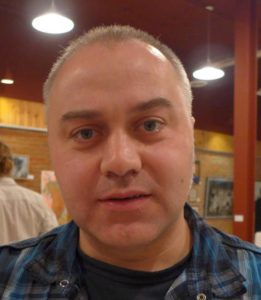 Tibi Chelcea has been recognized for his outstanding work which demonstrates his ability to take elements and processes of traditional printmaking and combine them with operations of digital technologies. His work shows an astonishing correlation between old and new technologies, and issues of consumption, serial design, automated vs labor-intensive processes, are brought to the fore.
Chelcea was born in Romania and came to the United States to pursue a PhD in Computer Science. He has been awarded and recognized in the field of electronic and digital design. Chelcea continuously proves himself as a source of inspiration.
Shelves he built at Area515 have been in an exhibition in Ames, Iowa.
To learn more about Tibi's work, visit his website: http://tibichelcea.net/