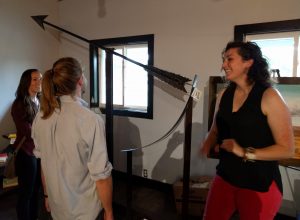 Are you a creative person looking for an alternative to renting an art studio? Do you want to try a new medium? Our memberships are a fraction the cost of a studio rental and include shared space, high tech tooling, and the opportunity for training on all our tools.
Did you know that the donor wall at the Des Moines Social Club was etched using our laser cutter? Have you ever thought to 3D print art, or see what you can do with a CNC router? Try out a membership at Area515 and see what you can build with a whole new set of tools. Members get personalized training on all tools, and we have various meetups to share tips and techniques.
If woodworking is your thing, we have a contractor-grade table saw, lathe, planer, miter saw, and an array of sanders, jigsaws, and hand tools. Metals more your speed? We have a metalworking shop in our garage.
Come check us out during our regular open house any Tuesday from 7 – 9pm, or pick any of several ways to get in touch with us.