The art show was a success!
Posted On January 31, 2016
The art show Saturday drew nearly 100 visitors to the Des Moines Maker Space to see what artists can produce using modern technology. From 3D printed jewelry to multi-layered pieces cut on our laser cutter, several of the booths demonstrated the possibilities of CNC machines. An interactive pixel art display showed us that sometimes the technology itself is art, and we were proud to display pieces created by several of our members as well. Dan rounded out the display with some custom motorized bicycles from Ichi Bike. The variety meant there was something for everyone to enjoy, and we look forward to hosting more art events in the future.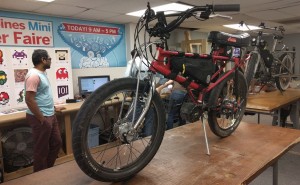 Thank you to everyone who came out to see the show. We hope to see you again, either at future events or at our laid-back Tuesday evening open houses where we can show you more of the maker space itself. Many thanks also to the artists and volunteers who made the event possible. It is difficult to launch a brand new show, and we appreciate everyone who helped make it a success.