Piranha FX CNC Router
From Area515
Piranha FX CNC Router
Picture(s)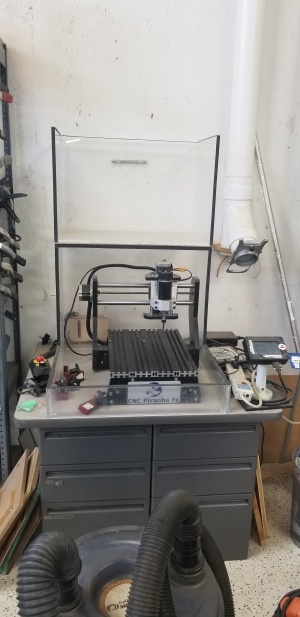 Description
This is an interesting unit. The Piranha FX was intended to be a 3-in-1 CNC machine that could function as a CNC router, 3D printer, or laser etcher. That's an interesting concept, but it is annoying to reconfigure it and we have plenty of 3D printers. So, we use it as a dedicated CNC router.
Manufacturer listing (via archive.org in case it disappears): https://web-beta.archive.org/web/20160502064337/http://shop.nextwaveautomation.com:80/shop/item.aspx?itemid=149
It has a 12" x 18" bed, with 12" x 13" x 3" travel in the X, Y, and Z dimensions, respectively. While that is much smaller than our Frankenmogul CNC router's ~4ft x 4ft bed, the Piranha is precise and is great for smaller projects. =
Materials
Required PPE
In the Metal and Woodworking shop, members are required to have Personal Protective Equipment to use the tools. You are encouraged to bring your own, but we also have a PPE cabinet that can be seen to your right as you walk in the door. Some tools have more or less required PPE than others. See below to check what kind of PPE this tool requires!
Consumables
Some tools at Area 515 have consumables: materials that are required to use the tool. For example, sanders have sandpaper as a consumable. See below for the consumables of this tool!
Other Notes