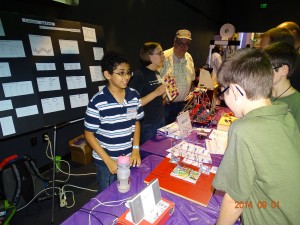 Area515 is proud to support STEM education. We offer recurring "Learn to Solder" classes, as well as discounted workshops that are suitable for students and youth. Watch our calendar for themed workshops where students can build their own line tracking robot, electronic clock, or other project. Do you have a group that is interested? Get in touch and we will do our best to schedule a custom workshop.
Several of our members are also FRC mentors, and we welcome FRC members to use our workshop during open house or when accompanied by a mentor who is a member of the space. We are also annual presenters at the Des Moines Maker Faire.
Are you 16 or older? As long as a parent or guardian signs off, you are eligible for your own membership. Are you under 16? Get a family membership with your parents, we're still glad to work with you. Come learn to build things!
Due to the large number of requests we receive to speak, teach, or host classes or student groups, please remember that we are not a staffed organization. Everyone involved in our classes, workshops, and other youth & community events are volunteers. We regret that we are not able to honor every request.